Women's Artistic Gymnastics
Women's artistic gymnastics (WAG) is the perfect synthesis of individual creative freedom of sporting technique and personal expression. WAG is an Olympic discipline, which features four gymnastics apparatus.
Vault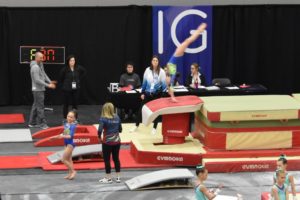 Women perform exercise on the vault while running at full speed using special additional support - a springboard. The length of the apparatus is 1.6 m, while width is 0.35 m. A gymnast takes a run along special track with a length of 25 m, pushes off from the springboard and then springs out of the apparatus using hands. Vaults can be straight, salto and with handspring
Uneven Bars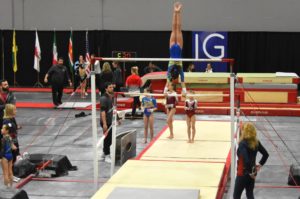 Also commonly referred to as "bars", it requires a large amount of strength, flexibility, grace, and endurance to be able to complete. Bars is the second event in the Women's Olympic Gymnastics rotation and an event that is performed only by women. The top bar is 2.4 metres (7.8 feet) above the floor, while the lower bar is 1.65 metres (5.4 feet) high.
This apparatus allows a great variety of movements, although hanging and swinging exercises predominate. The performer strives for smoothness and equal use of both bars in her routine.
Balance Beam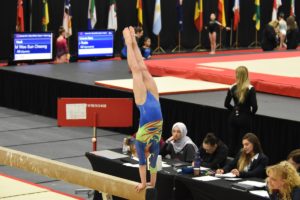 The Balance Beam is the third of four apparatus, competed after vault and uneven bars in Olympic order (vault, uneven bars, balance beam, floor). It is often simply called "beam." The balance beam is about 4 ft. high, 4 in. wide and 16 1/2 ft. long. It's slightly padded on top (though still feels hard to the touch) and has a slight spring to it as well. The most common balance beam skill types include: leaps, jumps, holds, turns, scales, handstands and acrobatic moves.
It's important to remember that as a gymnast progresses, her balance beam skills will get more difficult, and connection between skills will be necessary to fulfill competition requirements and raise her difficulty rating.
Floor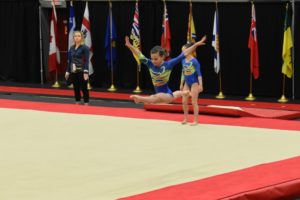 The floor exercise is the forth gymnastics event .The female gymnast shows her personality and creativity on the floor exercise, performed on a 40-by-40-foot spring floor. She must execute choreographed moves set to the tempo and mood of the instrumental music within the confines of 70- to 90-second routine. Her routine must include a combination of gymnastic, acrobatic and dance elements. Judges score the gymnast not only her athletic ability, but also her individuality, originality, maturity, mastery, and artistic quality.