Paul ApSimon
Paul has been the head coach of Ottawa Fencing since 2003, he has the designation of Chartered Professional Coach (ChPC). Paul holds the Advanced Coaching Diploma (ACD), the ACD is the pinnacle a coaches' education in the National Coaching Certification Program.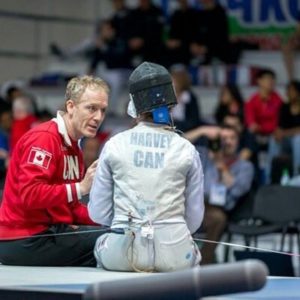 Paul has coached at three Olympic Games, (2000, 2012, 2016) and Ottawa fencers have won 100's of national medals under his leadership in Foil, Epee, and Sabre. Ottawa fencers have consistently qualified onto various Canadian teams, including the 2000, 2004, 2008, 2012 and 2016 Olympic teams. Paul has also qualified one of the two Canadian athletes for the 2014 Youth Olympics.
In addition to coaching at Ottawa Fencing, ApSimon is the head coach of the Canadian Women's Foil team (2010-Present). Under ApSimon's leadership this team has set Canadian records at all levels:
7th place at the Rio 2016 Olympic Games in Women's Foil with Eleanor Harvey.
2nd place in the Pentathlon Fencing event by Melanie McCann.
2 silver medals at the Junior World Championships (2014, 2015).
2015 Pan Am Games Gold and Bronze, a 4th place at the junior world team championships (2013).
3 quarter final performances at the world championships (2011, 2013, 2017).