The fencing camps offered by TRYumph Academy are an incredible opportunity for your child to have tremendous amount of fun while learning skills that will last them a lifetime. Fencing is a great way for kids of all ages to build agility, strength, endurance, and flexibility. In addition to fitness benefits, fencing promotes intellectual development, decision-making skills, self-discipline, and self-confidence.
The new fencers will learn proper fencing form and technique; basic fencing skills including footwork, blade work, and distance control; as well as fencing etiquette, rules, and sportsmanship (fencing is a noble sport after all). The code of chivalry and the modern Olympic values of friendship, respect, and excellence will be emphasized.
Kids age 7 to 18 are welcome to explore the world of Fencing!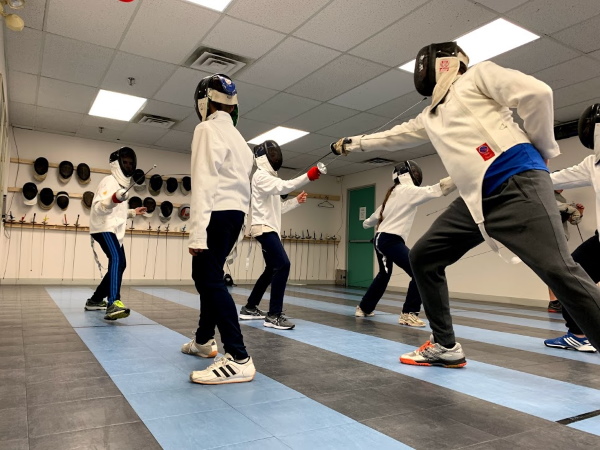 | | |
| --- | --- |
| Camp Times | |
| Full-Day | 9:00am - 4:00pm |
What to Bring?
Lunch
Snacks
Hat
Sunscreen
Indoor athletic shoes
Athletic wear
Our Fencing Camps will include technical development, lessons, competitions games and is geared towards advancing fencers towards the next armband. The camp will be coached by Joel Gervais. Joel is a Canadian Championship medalist and a member of the Canadian High-Performance program.
Date
Location
Type
Days
Week 1 - July 10
St. Paul's University
Intro - Level 1
Full Week
Register
Individual Days
Register
Week 2 - July 17
St. Paul's University
Intro - Level 1
Full Week
Register
Individual Days
Register
Yellow to Green Armband
Full Week
Register
Individual Days
Register
Week 3 - July 24
St. Paul's University
Intro - Level 1
Full Week
Register
Individual Days
Register
Week 4 - July 31
St. Paul's University
Intro - Level 1
Full Week
Register
Individual Days
Register
Week 5 - Aug 14
St. Paul's University
Intro - Level 1
Full Week
Register
Individual Days
Register
Intro - Level 2
Full Week
Register
Individual Days
Register
Week 6 - Aug 21
St. Paul's University
Yellow to Green Armband
Full Week
Register
Individual Days
Register
Learn to Train
Train to Compete
Learn to Compete
Full Week
Register
Individual Days
Register