Ninja Zone is a new discipline inspired by Obstacle Course Training, and Gymnastics. This is the ONLY facility in the East area dedicated to individuals seeking ninja warrior and obstacle adventure race training.
Our gym is specifically designed for both kids (ages 5 and up) and adults. We have full size and smaller scale obstacles.
The focus is developing motor skills through mobility, balance, power, strength and endurance. We want to create a strong mind and body through fitness, in a fun safe manner. By learning new obstacles, it helps athletes develop a positive mindset towards themselves and others. Setting and achieving goals will help boost their self-confidence and self-worth.
Important information: All Ninja programs require indoor sports shoes to be worn. No outdoor shoes are permitted in the facility.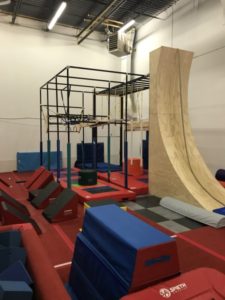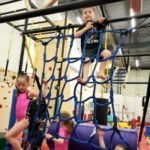 These co-ed programs are inspired by Obstacle Course Training and Gymnastics. Obstacle courses for strength, agility, balance, strength and endurance. Gymnastics tumbling for total body coordination. For success in school, sport, and life, a child that learns to channel their impulse & energy towards a focused goal will succeed in all endeavours.
Beyond skill, our curriculum teaches: confidence, discipline, impulse control; social and personal development.
Teen & Adult Ninja Programs
Teen & Adult Ninja Programs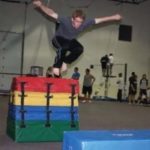 Designed for beginners to experts, our Adult Ninja co-ed programs offer the athletes a challenging experience on all of the Ninja obstables: from the 16′ wall, to the peg board, to the salmon ladder. Come and test your strength and endurance in an environment like no other!
Our HIIT (high intensity interval training) Ninja courses involve pushing yourself to 100% for an interval of 30 to 60 seconds of exercise, followed by a shorter period of rest. This style of workout comes with health benefits such as improving oxygen and blood flow. HIIT workouts are linked to better mental health and longer, healthier lives.