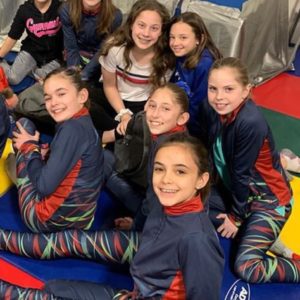 TRYumph Gymnastics Academy's mission is to run a consistent and sustainable gymnastics, ninja warrior, and fencing development programs providing youth with opportunities to participate in recreational and competitive activities while contributing to the community.
TRYumph's vision is in line with True Sport Principals.
Go for It: Rise to the challenge – always strive for excellence. Discover how good you can be.
Play Fair: Play honestly – obey both the letter and spirit of the rules. Winning is only meaningful when competition is fair.
Respect Others: Show respect for everyone involved in creating your sporting experience, both on and off the field. Win with dignity and lose with grace.
Keep it Fun: Find the joy of sport. Keep a positive attitude both on and off the field.
Stay Healthy: Place physical and mental health above all other considerations – avoid unsafe activities. Respect your body and keep in shape.
Include Everyone: Share sport with others. Ensure everyone has a place to play.
Give Back: Find ways to show your appreciation for the community that supports your sport and helps make it possible.
Integrity
We are committed to making a difference in the lives of the kids and the community. We do not tolerate unethical or dishonest behaviour, and we challenge such behaviour as a matter of personal responsibility, regardless of our position in the organization.
Respect
We acknowledge and respect differences in each other, and provide a safe, supportive environment in which all individuals and staff are valued, and encouraged to engage in open two-way communication.
We treat others the way we would like to be treated.
We demonstrate honesty, respect and caring in our work with the children, families and professional systems, as well as with each other. We recognize and honour each child and family's unique personal and cultural heritage from their interactions with others.
Inclusion
We recognize that we are stronger and more effective as a team of professionals than as individuals. We support an open, communicative culture in which individuals are encouraged to offer suggestions for improvement. We recognize that diversity is the foundation of our organization and we recognize that differing viewpoints can help us anticipate and solve problems. We strongly believe that teamwork increases our chances for success.
Excellence
We are committed to the highest standards, continuous improvement in all areas of our work, and to serve our clients. We celebrate our accomplishments, and seek ways to build on them to further the impact of our work. Excellence leads us to challenge ourselves to consistently deliver the highest quality of service to our clients.